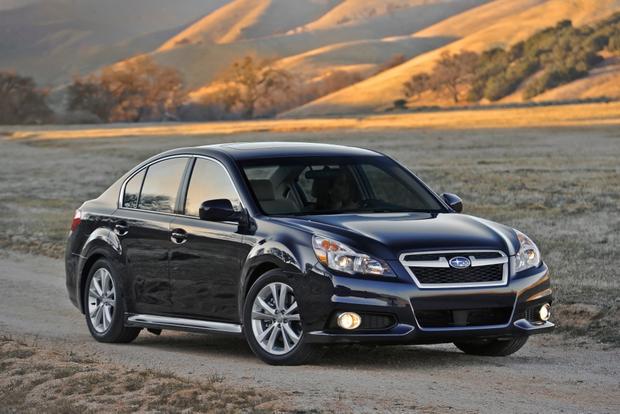 A sample picture of the new car we purchased
We took my father-in-law's car that we have been using in for an oil change early Saturday morning. One thing I love about
Peninsula Subaru
's service is that if you purchase a car (new or used) from them, you get free oil changes for life. As we were waiting we wondered around the showroom. We need another car because my wife and I will no longer be working in the same area anymore. Since we've been dating, we've either worked at the same company or have worked very close to each other, so a second car was never needed. We planned on looking around Subaru and my wife wanted to test drive some cars from other lots on Sunday. As it turned out we ended up test driving a new Subaru Legacy and loved it. I love Subarus because of the way they handle in the bad weather we have here in the pacific northwest each winter. We had been looking at an Outback, but decided on the Legacy after giving it a test drive. I finally have a car with Bluetooth, so I can answer my phone hands-free…it's been a long time coming. So we go in for an oil change and leave with a new car…lol.
We then headed to downtown Bremerton and attended the 3rd annual
BrewFest
. We had attended the first one while I was on leave from Korea, but missed the second one. It was a lot of fun! We met up with a number of friends and tried samples of the various local breweries goods. Some beers were good and some were downright awful! After that we headed to a local brewery and restaurant close by called "
Der Blokken
". The food was good and the company was good. All in all it was a great weekend. I found the more I drank, the less pain I had in my head…by the end of the day I was feeling no pain at all. I wonder if I can get a prescription for this??