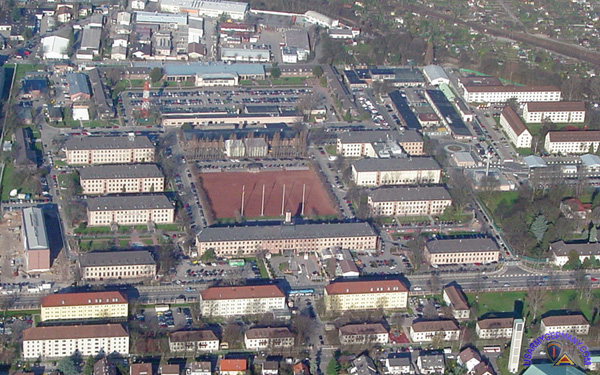 Campbell Barracks from the air. The buildings behind the building on
the far side of the parade field is where the S1 & S3 shops
are located...where the stupidity that is staff duty is located.
This morning we had PT at Patton Barracks gym, the normal folks did circuit training and the profiles headed into the gym. I did some cardio on the stationary bike next to SPC Mac. Instead of listening to music the whole time, we just chatted about anything and everything…we both hate this place. Well we both love Heidelberg and Germany, we just hate the unit we're in.
I headed into my office and after doing a quick email check, I grabbed the keys to the TMP and went outside to find it. It wasn't parked in it's normal spot, so I was walking around the entire post clicking the unlock button on the keychain and looking for lights to flash. I finally found it half-way across the post, then jumped in and prepped it for our upcoming trip (cleaned up, filled out the paperwork, setup my GPS, and filled up the gas tank). I then waited for the chaplain and we left at 1030 for Wiesbaden.
Once in Wiesbaden I ate lunch in the food court, then found a barber shop. After getting my hair cut there, I may just plan my haircuts around our trips to Wiesbaden. There were 3 people cutting hair and there was not that much of a wait. The lady cutting my hair shaved it bald, then rubbed some lotion onto my head. This haircut was second only to all my haircuts in Korea where each cut ends in a nice little shoulder and arm massage.
By the time I was finished, I waited in the TMP and played a couple games before the chaplain was finished and came out. We left at a little after 1400. When we got back I did some admin stuff for the chaplain (mostly emails). I then headed over to our S1 shop at 1600 for staff duty.
My staff duty shift was with an NCO I haven't yet done staff duty with. The night went fine with me either playing games on my phone, reading Mac Life on my iPad, or listening to Tales from the Spacepod. At 2200 the NCO says "I'm going to take a little nap", then proceeds to grab a big comforter from his truck. He comes back in and sets up a makeshift bed in the middle of S1. The guy slept from 2200 until 0400. I was more than a little pissed. I would have liked to sleep to, but this guy didn't care. One of the many reasons I hate this place. At 0500 I took all the trash out…the janitorial duties of staff duty, cleaning up after the S1 and S3 shops. I didn't vacuum and I didn't replace any of the liners in the trash cans…only because I couldn't find any. I really didn't give a crap at this point. I just couldn't wait to leave.
The only good thing about having staff duty today was that I didn't have to participate in the "Fit To Lead" event the next day. This started off with a battalion run, and then a bunch of events in the gym all day long including a weigh in. I'm not sure what all was involved, I don't really care because I have recovery the rest of the day…I'm going home and falling asleep.