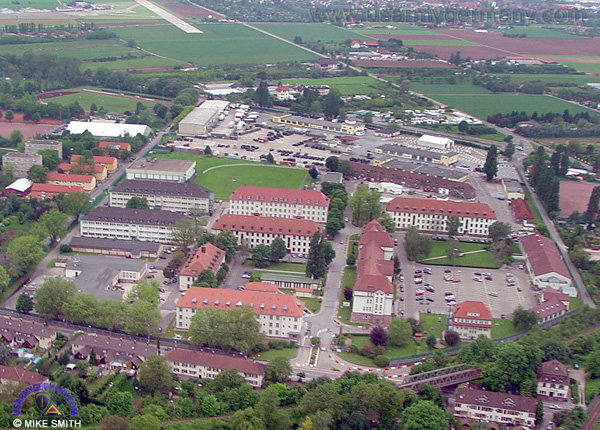 A view of Patton Barracks from the air...mostly used for
single soldiers. The gym is on the left of the big field near the top.
This morning we formed up at Patton Barracks gym for PT. The normal folks did circuit training, while those of us on profile headed to the gym, I did my usual weight lifting routine and had a pretty good workout, I'm going to be sore later on.
I headed into my office and after settling in, I headed straight to the barber shop. My hair is getting a little long and I thought I'd have them shave it all off. Much to my surprise there was only one barber working and there were three people in line waiting. For a moment I thought about just waiting in there, but I quickly changed my mind and headed back to my office. I did some admin stuff, some surfing of the web, and some studying for my Apple recertification before heading home for lunch.
On my way back to work I stopped by the hospital. My MedPros status for hearing is red, I guess I need another hearing test. When I called to make an appointment, they told me it's a walk-in for MedPros. So I went there and the doors were shut for audiology. No sign…nothing. I waited around for a bit, but there was no sign of anyone. I headed back to my office, I figured I'd check out the barber shop again…no luck. The place still only had one barber and again…three people waiting. Must be the budget cutbacks! I headed to my office did some emails and played some games on my iPhone. Today seems like I didn't get anything done.
I did receive a call later on after work though from the WTB-Europe transfer coordinator. He verified all the information I had given them previously. He said I should find out for sure where I'll be heading as early as the beginning of next week.